Shannon Sharpe nella Hall Of Fame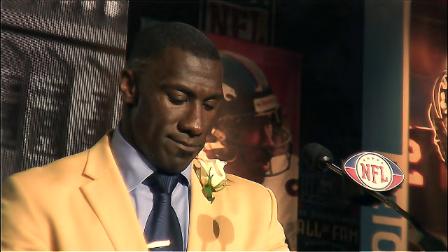 L'ex TE numero 84 dei Denver Broncos bi-campioni NFL, Shannon Sharpe, è stato introdotto ufficialmente nella Hall of Fame del football professionistico, a Canton (Ohio). Raggiunge nell'arca della gloria altri tre ex Broncos, John Elway, Gary Zimmerman e Floyd Little, in quella che per anni è stata la troppo misera rappresentanza arancioblu nella storia NFL.
Shannon Sharpe è stato forse il primo TE atipico a solcare i campi NFL, rivoluzionando completamente il ruolo. Prima di lui la caratteristica principale di un buon TE era quella di bloccare per i RB, ma con lui nascono i "receiving TE", così diffusi al giorno d'oggi. La sua caratteristica principale infatti era quella di essere un grandissimo ricevitore, capace di andare sul profondo, così come di aiutare il QB sul corto. Sicuramente è stato uno dei bersagli preferiti di John Elway (insieme a Rod Smith), durante la duplice cavalcata che ha portato Denver alla vittoria del Superbowl nell '97 e nel '98. Inoltre nel suo palmares compare anche un terzo Superbowl vinto con i Baltimore Ravens, a dimostrazione di essere un vincente nato.
Erano suoi i record per maggior numero di ricezioni, maggior numero di yard ricevute e maggior numero di TD su ricezione, fino a tre anni fa, quando un altro fenomeno, Tony Gonzalez li ha superati tutti e tre.
Sharpe era anche famoso per la sua parlantina, non certo un tipo silenzioso in campo, ma che faceva seguire i fatti alle parole. Tendenza che ha mantenuto nel post-carriera, lavoando come commentatore e opinionista in vari trasmisioni sull'NFL.
Nel suo discorso di introduzione alla Hall of Fame, toccante il passaggio quando dice di essere stato il primo a entrare nella HOF,pur essendo il secondo miglior giocatore della sua famiglia.Da ricordare infatti che Shannon è il fratello minore di Sterling Sharpe, fortissimo WR dei Green Bay Packers, che purtroppo ha chiuso troppo preso la carriera a causa di gravi infortuni. Ovviamente tra i ringraziamenti ha citato John Elway, su QB e grande amico.